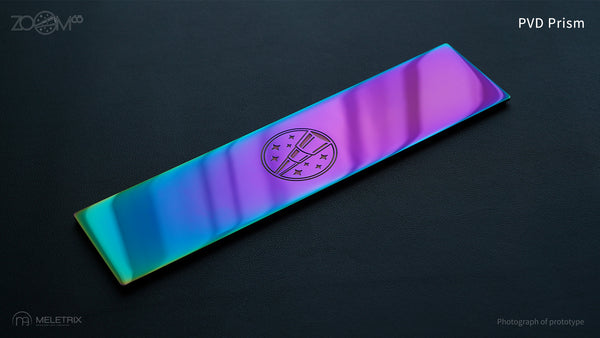 ZOOM65 Essential Edition R2- Extra weights added with Prism weight will drop on  September 21st at 11 AM EST (Sept 21st, 11 PM, GMT+8 Beijing Time ), You can use the website to convert the local time you want.
Pre-Order Time:  September 21st, 2022 - October 1st, 2022
Delivery Time:  expected Mid-December
There are 9 different weights:
• Anodized black aluminum weight
• Anodized gold aluminum weight
• Anodized rosegold aluminum weight
• Anodized pink aluminum weight
• E-white aluminum weight
• PVD mirror gold stainless steel weight
• PVD mirror silver stainless steel weight
• PVD mirror black stainless steel weight
• PVD mirror prism stainless steel weight
Weight Specifications
PVD mirror stainless steel weight:
With package weight: 550g
Without package : 450g

Anodized aluminum weight:
With package weight: 250g
Wthout package weight:150g
Disclaimer

1. Reading and following the build guide is essential, especially if it's your first time building. Please make sure to read the build guide in full before you attempt to install it. If your unit is missing a printed build guide, please locate the online version linked on Meletrix website.

2. The case, weight, and knob colors shown in the photos are renders. Colors may appear different on different screens and devices, depending on calibration and color profiles. Actual colors may appear slightly different in production units.
3. Prism External Weights of the treatment process, all prism colored PVD external weights will have purple, yellow, blue, and other colors' in a random gradient. This is difficult to be controlled. While we will try our best to make them look similar to our renders, prism prototypes , please understand that there may still be differences with the final product. Variations due to this process are within our quality standard.
4. Your payment method will be charged as soon as you place the order. As such, if you cancel your order there will be a 4.4% restocking fee applied to the total orders. This is a fee we do not get back in case of a refund.


Please subscribe to our newsletter or join our discord for updates.