Zoom65 Essential Edition R2
$159.00
$179.00
saving
$20.00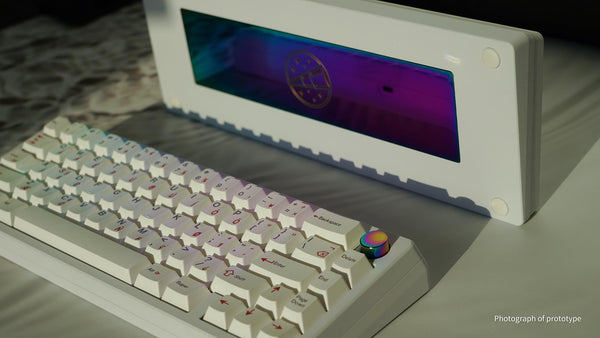 Zoom65 Essential Edition R2
$159.00
$179.00
saving
$20.00
Zoom65 Essential Edition R2 will drop on 
September 21st at 11 AM EST (Sept 21st, 11 PM, GMT+8 Beijing Time )

, please check this website

 

to convert time zone as reference. 

Note: this round of Zoom65 EE R2 pre-orders will not come with a free Wuque Titanium Switch Puller.
We are pleased to bring you the Zoom65 Essential Edition R2!
Newly added to this round:
Prism Mirror PVD weight knob
Matching Keycap starts at 30 USD
GB Time:  September 21st, 2022 - October 1st, 2022
There will be a soft limit according to production materials we prepared, GB may be closed earlier if quantity reaches to the limit earlier.
Current Status: Cases raw materials made
Production Start Time: October 10th, 2022
Delivery Time:  expected Mid-December
Find extra  cases, knobs, weights, PCB, plates, internal weights and zoomcaps here.
More high resolution Zoom65EE photos

 
Zoom65 EE R2 at a glance
* More than 90 Color Varieties
10 case colorway, 9 knob&weight combo, extra knobs and weights to meet your DIY need.
* Bluetooth/VIA Wired and Wireless Hotswap PCB

Supports Bluetooth 5.0 and VIA configuration, works in both wired and wired less mode. Hotswap PCB with Kailh sockets.
* Multi-Layout 
ANSI, ISO, split spacebars, step caps lock, right shift, backspace 
* Battery Included
Every Zoom65 Essential Edition comes with a 2300mAh Li-ion battery included in the kit. The battery should last 6-8 weeks between charge under normal use. Once it's out of charge simply connect your keyboard to your PC / laptop using the included USB-c cable. 
* Internal weight
Take your keyboard to the next level with an internal brass weight, sold separately here. It weighs about 400 grams and the exposed brass inside the case gives it a nicer, more solid sound compared to having no internal weight. Compatible with all Zoom65 sold to date.
Specifications
Gasket mount design
6.5° Typing angle
20mm front height
Essential kit with Aluminium knob/weight: 1.55kg
Essential kit with Aluminium knob / weight & internal brass weight: 1.95kg     Essential kit with brass knob / PVD SS weight: 1.82kg
Essential kit with brass knob / PVD SS weight & internal brass weight: 2.22kg        PCB can be used in wired or wireless mode.
Essential Kit Contents
• Aluminum top & bottom case of buyer's choice
• Aluminum / SS external weight of buyer's choice
• Aluminum/brass rotary knob matching the external weight.
• Hot-swap, multi-layout Bluetooth PCB
  Compatible with VIA. ESD Protected. Can be used in wired or wireless mode
• Polycarbonate plate
• Set of WS Stabilizers
• 2300 mAh Li-ion battery
• Coiled USB-C cable
• Full foam kit
• Gaskets
• Screws and other installation tools and accessories
• Faux suede storage case
Buyers can pick and choose their preferred weight and knob combo with their choice of case. The included weight and knob will be of the same color/finish.
Additional weights and knobs can be purchased separately on their own. 
Previous Zoom65 Reviews
Zoom65 Bluetooth tutorial and installation video
Sound Test
WHERE TO BUY 
Disclaimer
1. Reading and following the build guide is essential, especially if it's your first time building. Please make sure to read the build guide in full before you attempt to install it. If your unit is missing a printed build guide, please locate the online version linked on Meletrix website.

2. Since there are so many variations, images provided on the product page are renders and are for display purposes only. The renders are given to provide an idea to what the final product will look like. The physical product may have some differences. Please also refer to the prototype's photos as reference before purchasing.
3. Prism External Weights of the treatment process, all prism colored PVD external weights will have purple, yellow, blue, and other colors' in a random gradient. This is difficult to be controlled. While we will try our best to make them look similar to our renders, prism prototypes , please understand that there may still be differences with the final product. Variations due to this process are within our quality standard.
4. Your payment method will be charged as soon as you place the order. As such, if you cancel your order there will be a 4.4% restocking fee applied to the total orders. This is a fee we do not get back in case of a refund.


Please subscribe to our newsletter or join our discord for updates.